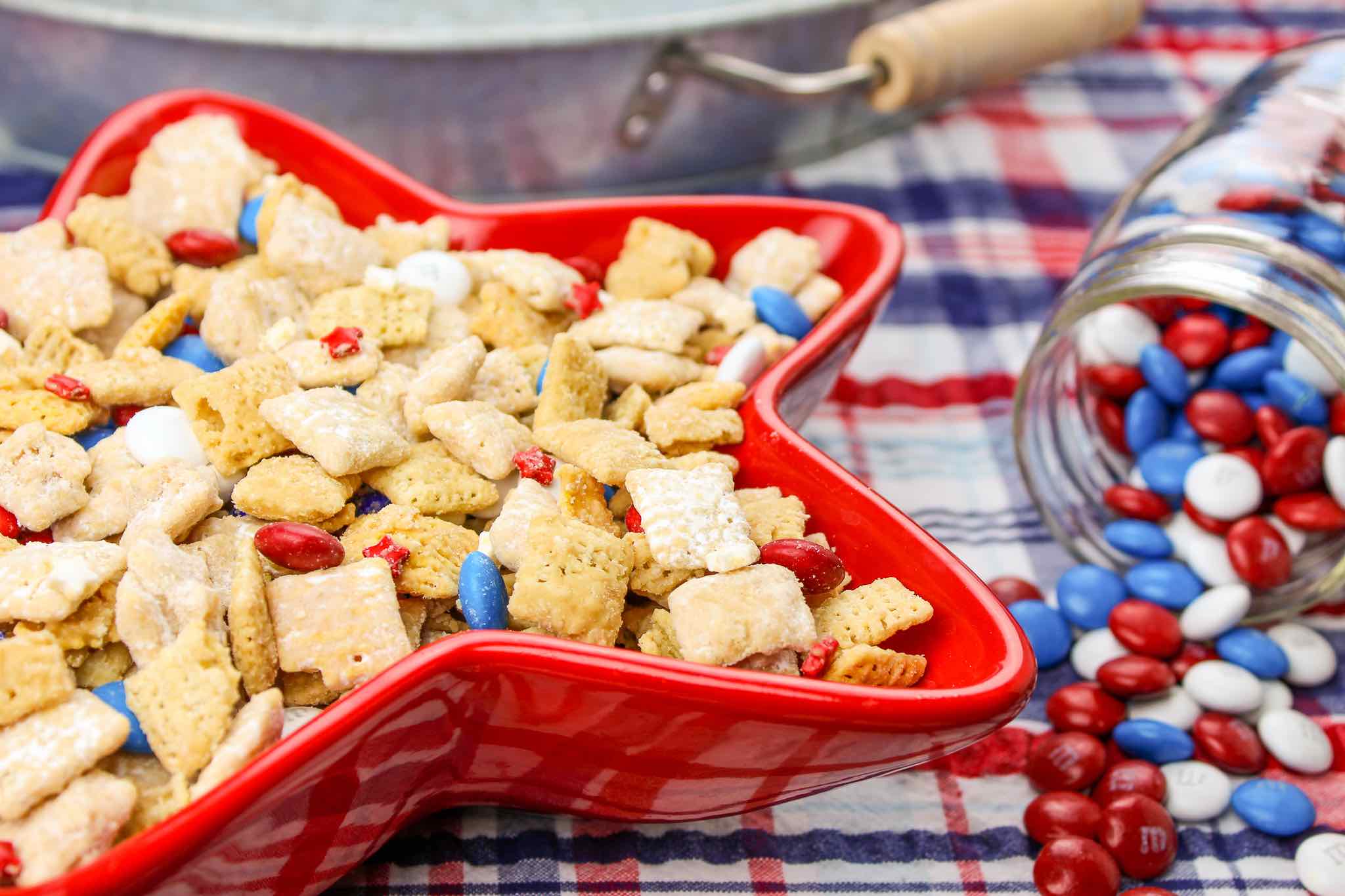 Star Spangled Chex Mix
Looking for the perfect snack for your Fourth of July celebration? Our Star Spangled Chex Mix is sure to be a hit.
Patriotic holidays are especially close to our hearts and we take any opportunity to deck everything out in red, while, and blue. So when we saw a Betty Crocker snack mix recipe for Valentine's Day, we decided to shift the color scheme.
This post contains affiliate links, which means we may receive a commission (at no cost to you) if you purchase something we have recommended.
Some years the red, white & blue mix M&Ms are everywhere, other years they seem to be hard to find, so snap them up when you see them. Look for the star sprinkles in the seasonal baking section at your local craft store.
The best part about this Chex mix? It comes together in minutes so is easy to add to your party menu or bring along to pretty much any event you're attending.
Star Spangled Chex Mix
Ingredients
9

cups

Rice Chex

1

cup

white chocolate chips

1/2

cup

peanut butter

1/4

cup

butter softened

1/2

cup

powdered sugar

3

tablespoons

red, white, and blue edible star sprinkles

1

cup

red, white and blue M&Ms
Instructions
Place Chex in a large bowl.

Add water to the bottom of a double boiler and place over high heat. Bring the water to a boil, then reduce the heat to maintain a gentle simmer. Add the chocolate chips, peanut butter, and butter to the top of the double boiler and set over the simmering water. Cook, stirring constantly, just until everything is melted and smoothly blended together, 1-2 minutes.

Pour the mixture over the Chex in the bowl and carefully stir until the cereal is evenly coated.

Remove half of the cereal and place it in a gallon zip top plastic bag, then sprinkle the powdered sugar over it. Gently shake the bag until the cereal is fully covered. Spread the cereal on a sheet of wax paper to cool, leaving any extra sugar behind in the bag.


Add the star sprinkles to the remaining Chex in the bowl, stir gently to mix, then spread onto another sheet of wax paper to cool.

Place the two cooled mixtures in a large serving bowl, add the M&Ms, and stir together.