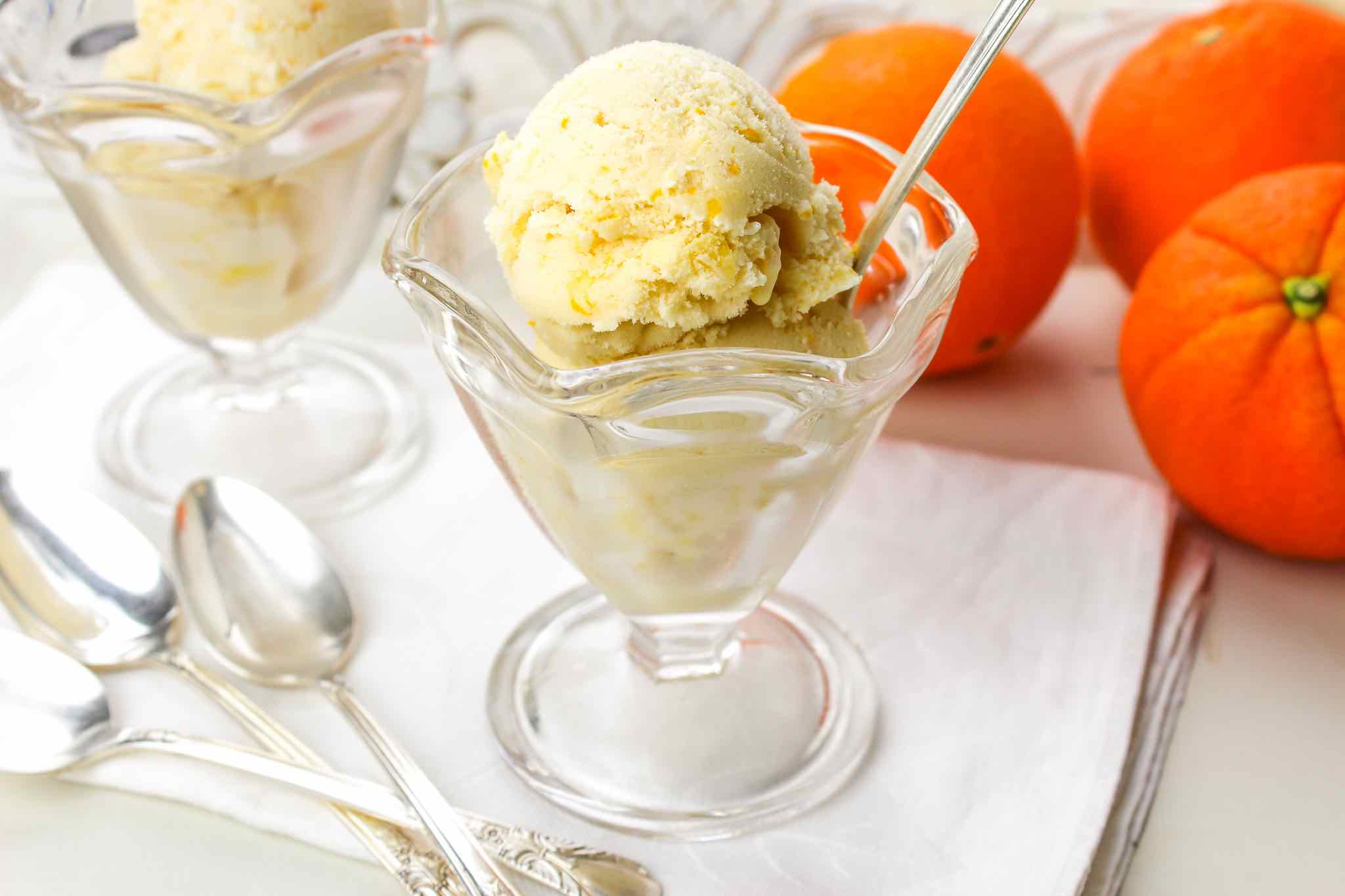 Orange Pineapple Ice Cream
Enjoying a cool and creamy scoop of ice cream is always the most fun on a hot summer day. My favorite flavor of ice cream growing up was orange pineapple, which I don't come across very often anymore. So when we made this genius Vanilla Bean Ice Cream from Cookie and Kate, I knew it would be perfect to adapt. (Be sure to try out the original recipe as well as the Fresh Mint Ice Cream variation – it's delicious with chopped dark chocolate added just before putting it in the ice cream maker.)
This post contains affiliate links, which means we may receive a commission (at no cost to you) if you purchase something we have recommended.
You do have to plan ahead and start the recipe the day before you want to have the ice cream, but I promise it will be worth it. You'll also need an ice cream maker. I use a Cuisinart ICE-70 and absolutely love it, but there are a ton of options available.
Once you've got the basic technique for making this ice cream down, you can create your own favorite flavors with it. The possibilities are really endless and it's fun to experiment. For example, to make a delicious Key Lime Pie Ice Cream:
Substitute 1 teaspoon key lime zest for the orange zest
Substitute 1/3 cup key lime juice for the pineapple
Add 3/4 cup crushed graham crackers during the final moments of freezing in the ice cream maker
Want to host a fun summer get together? Stock your freezer with several different varieties of ice cream and plan an ice cream social.
Orange Pineapple Ice Cream
Ingredients
2

cups

2% milk

1

cup

half & half

zest from 2 oranges

3/4

cups

turbinado sugar

pinch

fine sea salt

2

large egg yolks

1

teaspoon

pure vanilla extract

1/2

cup

finely chopped pinapple
Instructions
Combine the milk, half & half, and orange zest in a medium sauce pan.  Affix a candy thermometer to the side of the pan, then place it over medium-high heat and cook, stirring occasionally, until the mixture reaches 180◦.  

Remove the pan from the heat, cover, and let stand for 10 minutes.

Meanwhile, combine the sugar, salt, and egg yolk in a medium bowl and whisk until it becomes pale.

Gradually add a little of the milk mixture to the egg mixture while whisking vigorously. Continue adding and whisking until the two mixtures are fully combined, then return it all to the pan.

Place the pan over medium-low heat and cook until the mixture reaches 160◦, whisking constantly.

Transfer the mixture to another bowl and add the vanilla extract.  After it cools to room temperature, place the bowl in the refrigerator overnight.

Remove the bowl from the refrigerator and add the pineapple. Follow your ice cream maker's instructions for freezing. Transfer the ice cream to a freezer-safe container for a few hours to firm it up a little more if you would like.