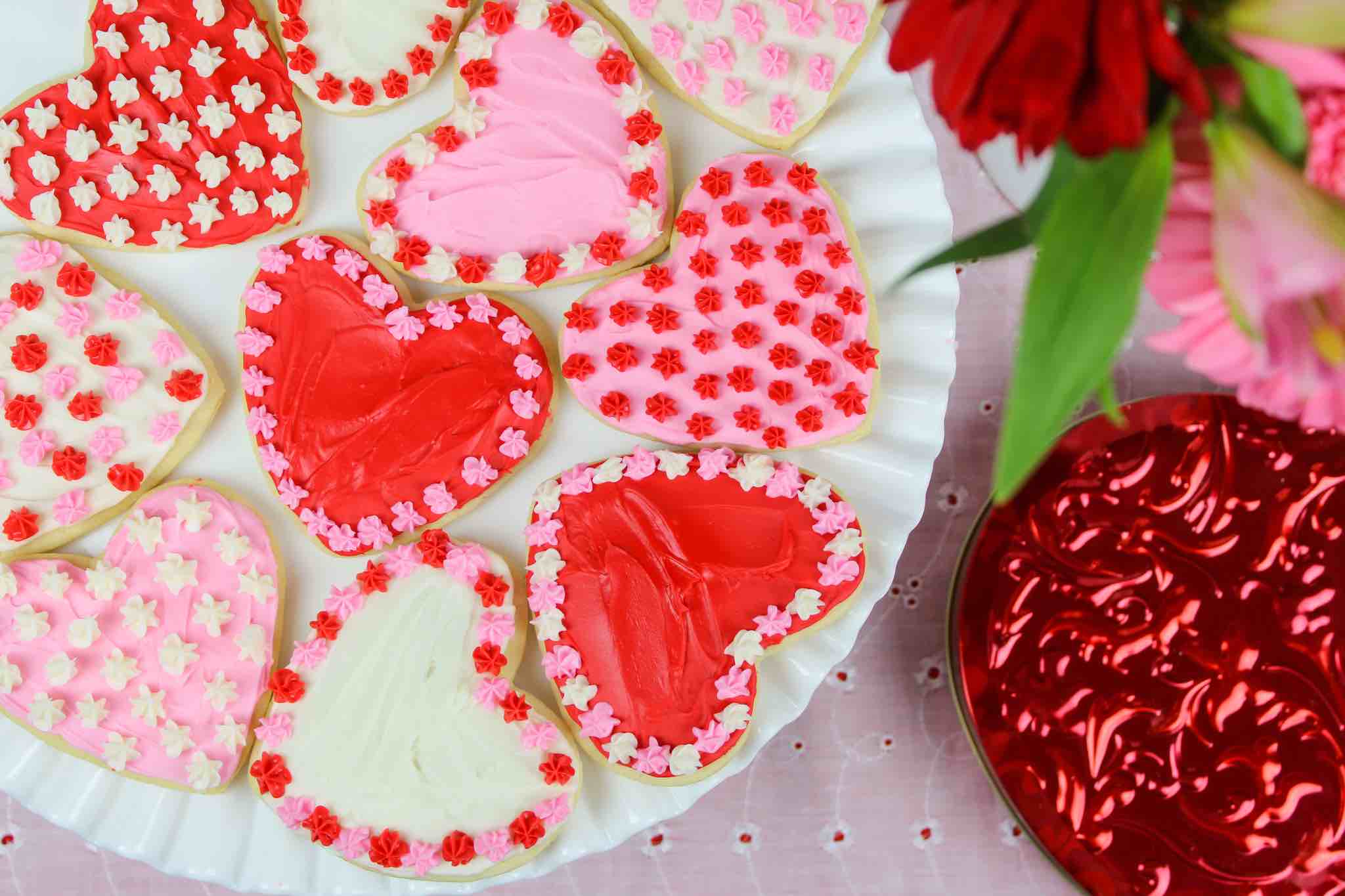 Easy Cutout Cookies
These Easy Cutout Cookies are so simple to mix up and cut out. Add in the super quick baking time and they couldn't be easier. Plus, they taste great and have a nice, soft texture.
My family has been making these cookies since I was little. We would do bats, pumpkins, and ghosts for Halloween, and stars, trees, and more for Christmas. But my favorite was the Valentine's Day hearts, with their red, white, and pink color scheme.
Making the cookies was a family activity and something I always looked forward to. We would spend one afternoon mixing up the dough and cutting out the cookies, and then another frosting and decorating them.
More recently, we've held holiday get-togethers where I've made a batch of the cookies ahead of time. The kids then get to frost and decorate them as well as have a plate of finished cookies to take home.
This post contains affiliate links, which means we may receive a commission (at no cost to you) if you purchase something we have recommended.
We usually used canned cream cheese frosting to decorate these cookies and I sometimes still go that route. If you've got the time though, try the delicious homemade cream cheese frosting from this Southern Living cutout recipe. I also sometimes add different flavorings to the colored frosting, like raspberry or peppermint.
It's helpful to get all of your decorating supplies together and ready before you start the frosting fun, especially if you have others joining in. At a minimum, you'll need:
Completely cooled cutout cookies
Colored and flavored frosting in individual bowls or other containers
Frosting knives (I like small plastic ones for little hands)
Sprinkles and other decorations (make sure they either are in shaker containers or small bowls with spoons)
Baking sheets (placing frosted cookies on them before putting on sprinkles corrals a lot of the mess)
Optional: icing decorating bags and tips
Once frosted, we store these cookies in an airtight plastic container. They should keep well for a week or two. If they start to get hard, add a piece of sandwich bread to the container and they will soften up again.
Easy Cutout Cookies
Ingredients
1

cup

butter, softened

2

cups

sugar

3

eggs

2

tablespoons

milk

2

teaspoons

vanilla

5 1/2

cups

flour, spooned and leveled, divided

1 1/2

teaspoons

baking soda

1 1/2

teaspoons

cream of tartar

1/4

teaspoon

salt
Instructions
Preheat oven to 450◦. Lightly grease two baking sheets.

Place butter and sugar in the bowl of a stand mixer and beat until light and fluffy. Add the eggs and beat again. Add the milk and vanilla and beat until thoroughly mixed.

Add 1 1/2 cups of the flour along with the baking soda, cream of tartar, and salt to the mixing bowl and mix until combined. Add 2 cups more flour and mix again, then add remaining 2 cups flour and mix until fully incorporated, scraping down the sides as needed.

Divide dough in half. Roll one half out on a lightly floured surface to 1/8-inch thick. Cut out desired shapes with cookie cutters and transfer cookies to prepared baking sheet, leaving an inch or so between them. Re-roll dough scraps 1-2 times. Repeat with remaining dough half.

Bake one pan of cookies at a time just until the cookies puff up a little and set, about 4 minutes for 3-inch cookies. (You don't want the cookies to brown at all.) Let cookies cool on the pan for 4 minutes, then carefully transfer them to a flat surface until completely cool.