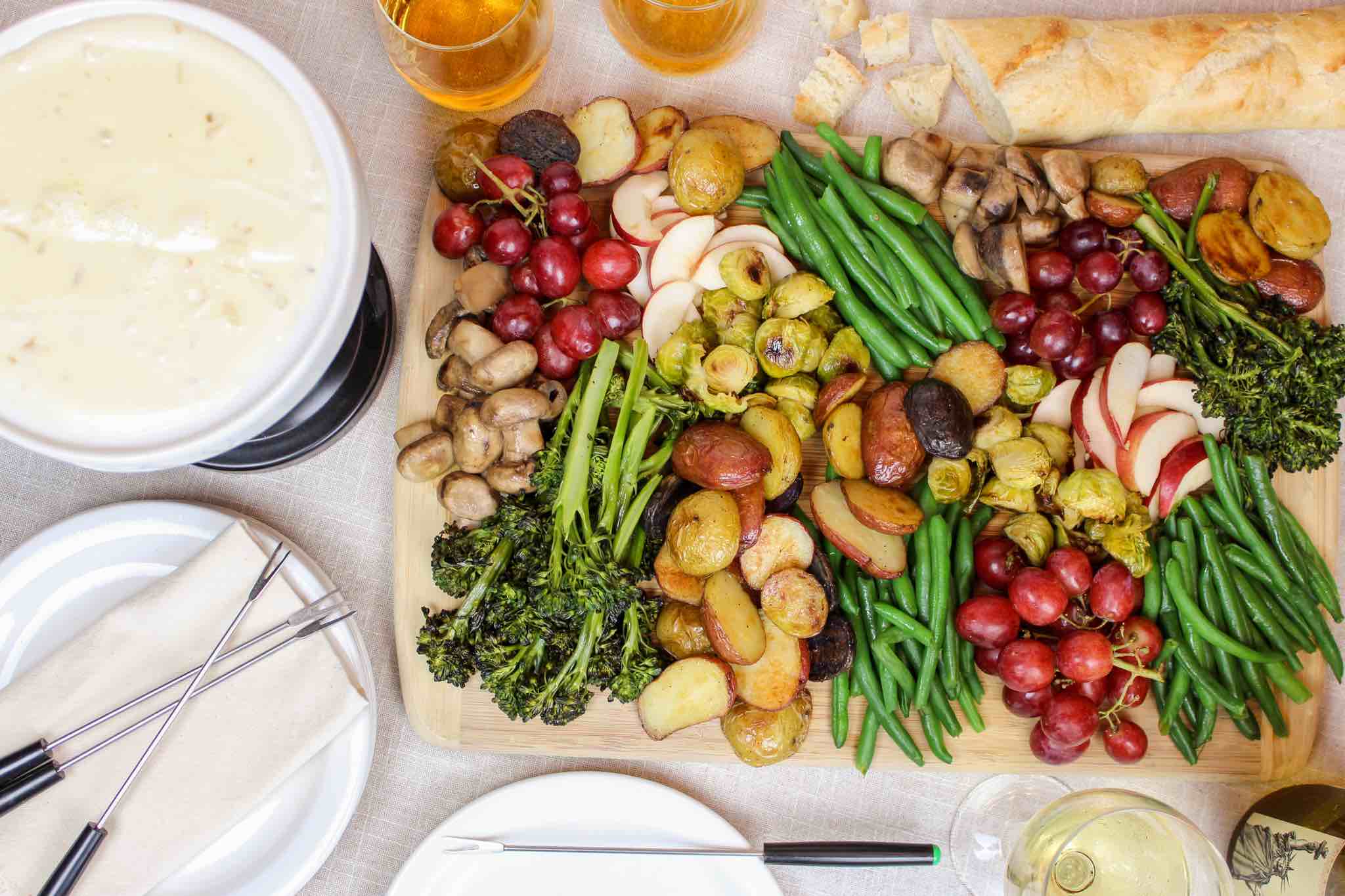 Have a Family Fondue Night
A family fondue night is a great way to enjoy an evening in together – especially on a cold winter day! And while fondue always seems fancy, it's an easy meal to put together with just a little planning and preparation.
Cheese fondue has always been one of my favorites. What could be better than a pot full of delicious, warm, melted cheese? Growing up it was reserved for holiday celebrations, and even now it still seems special as we only make it a couple of times a year.
When the winter drags on forever like it is right now, it's definitely the perfect time to pull out the fondue pot and have a little fun!
Planning the Menu
The first step is deciding what fondue you'd like to have. If you're looking for a traditional cheese fondue, I like this Gruyere Fondue recipe. However, if you want to try something a little bit different, the options are pretty endless. Two of our current favorites are Southern Living's Beer-Cheese Fondue and Country Living's Three-Cheese Fondue. I went with the Three-Cheese Fondue this time around.
Whatever fondue you choose, you also need to plan what you'll dip in it. While the bread is of course critical, make sure you have a variety of other dippers too. Some potential options:
roasted baby potatoes (a mix of blue, yellow, and red is pretty)
roasted Brussels sprouts
roasted broccoli or broccolini
roasted cauliflower
roasted butternut squash
sautéed whole mushrooms
blanched green beans
grapes
apple slices
pear slices
Depending on your fondue recipe, select a favorite craft beer, hard cider, or wine to pair with it. But don't forget to have a fun non-alcoholic drink for kids too. Even something as simple as sparkling apple or white grape juice adds a festive touch.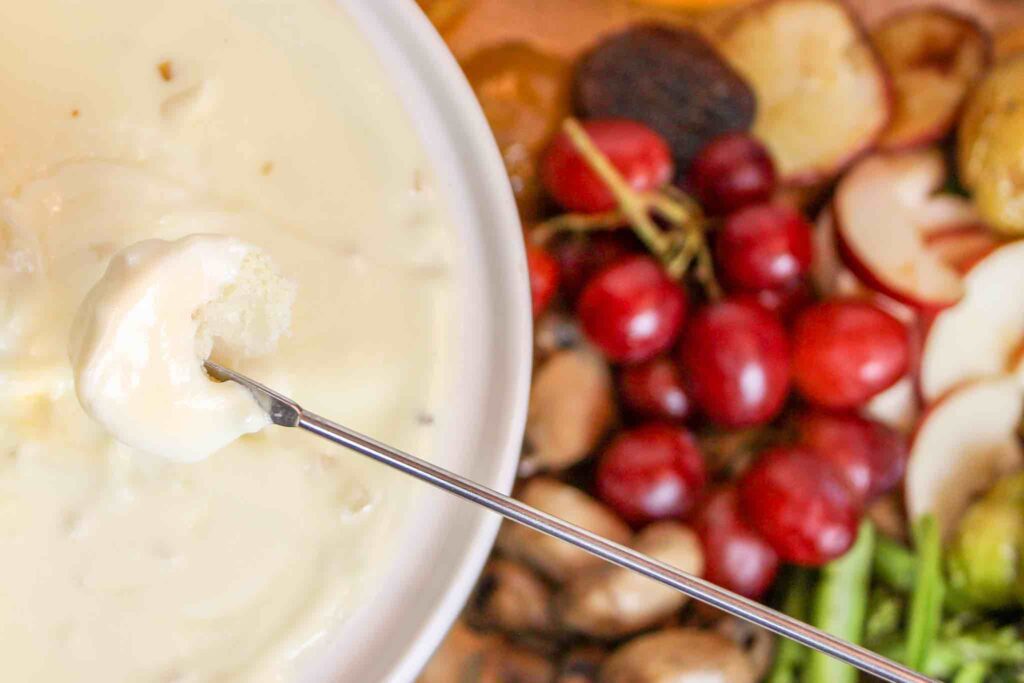 Setting the Stage
If you don't already have a fondue pot, a fondue night is a great excuse to get one! They come in a wide variety of sizes, styles, and prices. Just make sure the pot you pick is designed for the type of fondue you want to make and will accommodate your whole family.
Most fondue pots come as part of set that includes the base, fondue forks, and burner (unless it's electric), but you have to purchase the appropriate fuel separately. If your fondue forks don't come with color coding, try wrapping small rubber bands in different colors around the handles so everyone can keep track of their forks.
For an impressive presentation of your dippers, arrange everything on a large platter or cutting board. Provide plates and regular forks for everyone so the fondue forks are only used for dipping. An easily cleaned table covering is also a good idea as there will definitely be drips.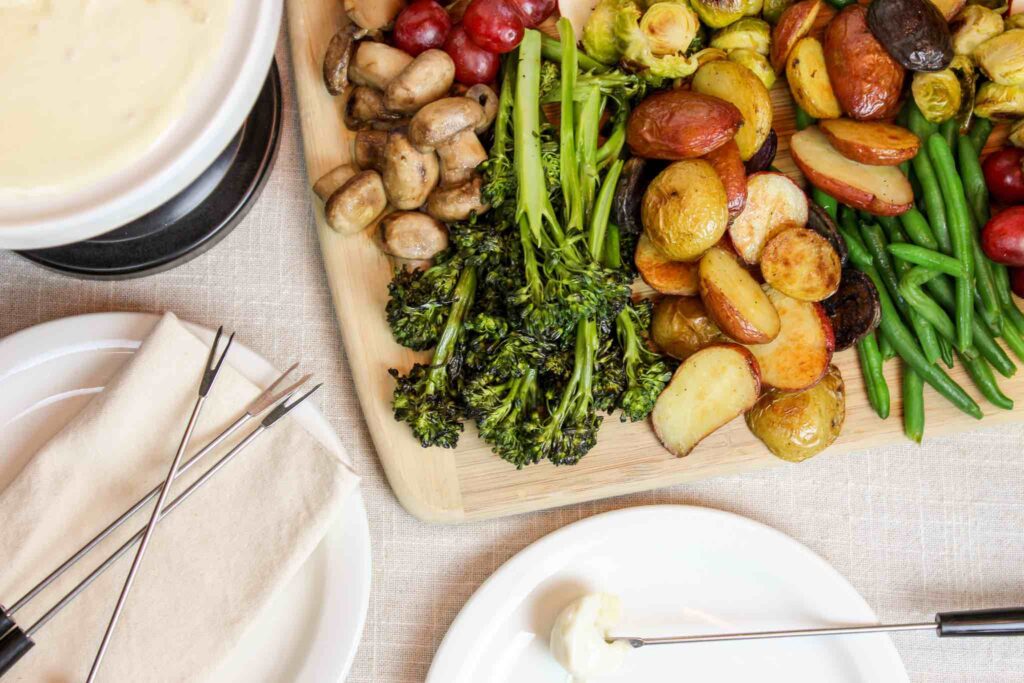 Other Tips
This post contains affiliate links, which means we may receive a commission (at no cost to you) if you purchase something we have recommended.
Aside from the fondue itself, everything can be prepared ahead of time.
Cook vegetables up to a day in advance and store in the fridge. Throw everything on a large rimmed baking sheet and reheat in the oven while you're making the fondue. About 10 minutes at 350◦ should do it.
Cut up fruit the morning of and store in the fridge. (To keep fruit like apples from browning, spritz them with lemon juice immediately after cutting.) Take the fruit out of the fridge before you start the fondue so it will be room temperature by the time you're ready to start dipping.
Cube bread the morning of and store in a zip-top plastic bag.