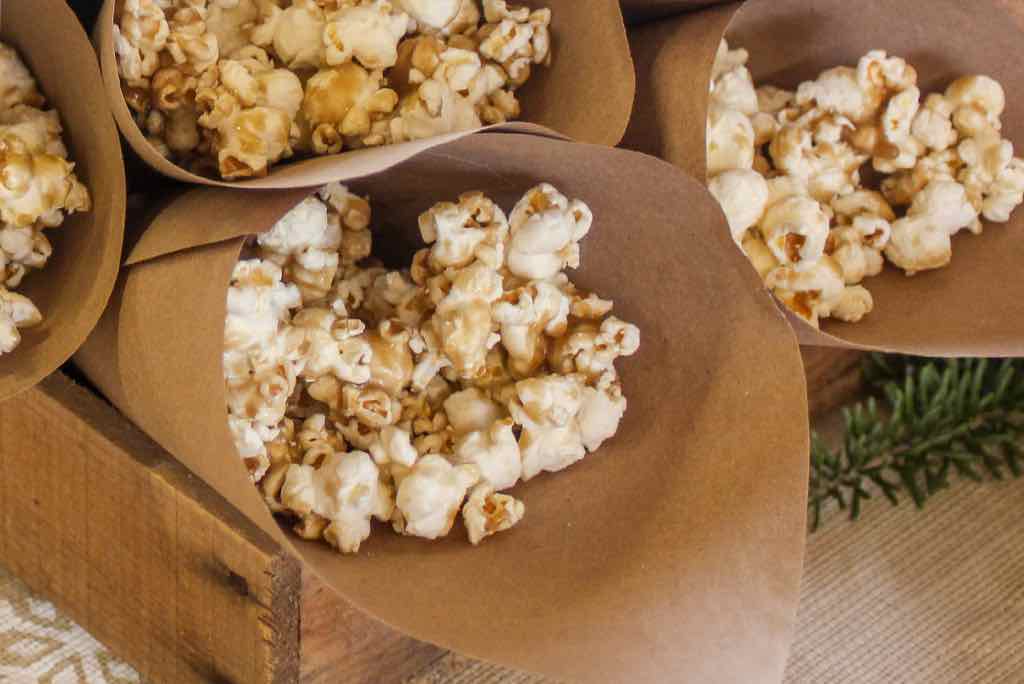 Oven Caramel Corn
My aunt often made this oven caramel corn for special occasions while I was growing up. It's much lighter and more crunchy than other caramel corn recipes I've come across, so it's perfect when you're looking for a sweet snack.
This post contains affiliate links, which means we may receive a commission (at no cost to you) if you purchase something we have recommended.
I always put it out at get-togethers in individual containers so people can grab one and snack while walking around. One easy option is to cut out 12-inch squares of Kraft paper and roll them into cones, using a piece of clear tape where the edge meets to keep them in place. Don't leave the caramel corn sitting out of an airtight container too long though, as it can start to lose its crispness and get tacky.
This recipe works best with larger popcorn – our favorite is Amish Country Extra Large. We pop the corn in an air popper, but you can also cook it on the stovetop. If you've never made stovetop popcorn before, you can find some detailed instructions here, but leave out any salt or other flavorings added to the finished popcorn. Either way, make sure you are careful to remove any un-popped kernels from the popcorn before placing it in the roasting pan.
If you like peanuts in your caramel corn like Tim does, you can easily add a can to the roasting pan with your popcorn before you add the caramel.
Oven Caramel Corn
Ingredients
16

cups

popped corn (from appoximately 3/4 cup kernels)

1

cup

light brown sugar

1/2

cup

margarine

1/4

cup

light corn syrup

1/8

teaspoon

salt

1/2

teaspoon

baking soda
Instructions
Preheat your oven to 200◦ and coat a large roasting pan with nonstick cooking spray. Add the popcorn.

Combine the brown sugar, margarine, light corn syrup, and salt in a medium saucepan and bring to a boil over medium heat, stirring frequently.

Boil and stir constantly for 5 minutes, then remove the pan from the heat and stir in the baking soda.

Pour the mixture over the popcorn and stir gently, until the popcorn is evenly coated.

Bake the caramel corn for 1 hour, stirring every 15 minutes. Let cool fully before storing in an airtight container.