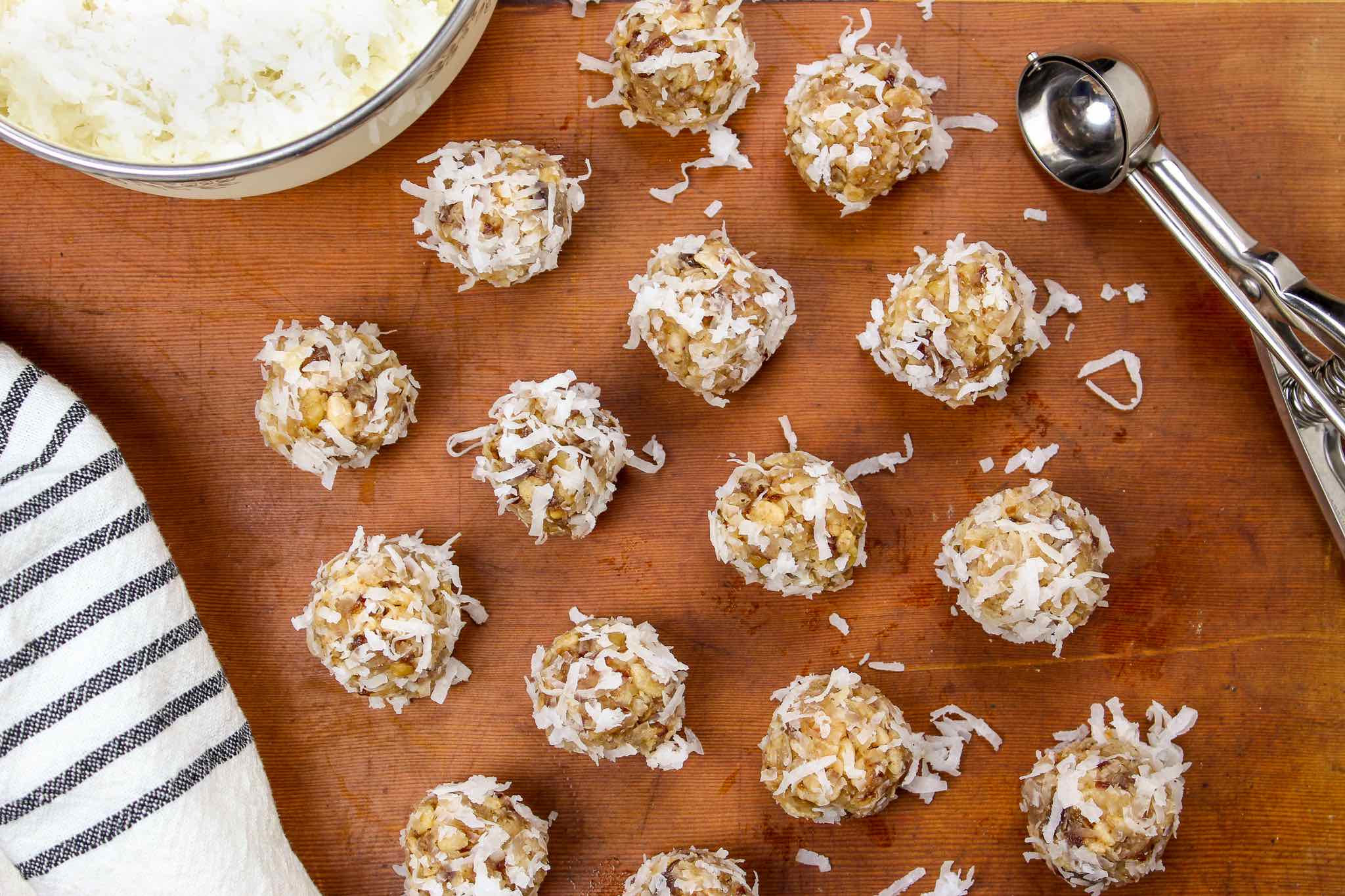 Coconut Date Balls
These little coconut date balls were always part of our Christmas cookie trays when I was growing up. They are best after sitting for a couple of days, so are perfect when you need something you can make ahead.
This post contains affiliate links, which means we may receive a commission (at no cost to you) if you purchase something we have recommended.
While they are technically no bake, the dates do need quite a bit of cooking time on the stovetop in a double boiler. As they only need occasional stirring though, we always multi-task on another baking project along with them.
The end mixture is pretty sticky so you may want to grease your hands before rolling the balls. You also want to work somewhat quickly as the warmer the mixture is, the better it shapes.
Coconut Date Balls
Ingredients
1/4

cup

margarine,

softened

1

cup

sugar

1

egg

8

oz

chopped dates

1

teaspoon

vanilla

2

cups

Rice Krispies

1/2

cup

chopped walnuts

6

cups

sweetened flaked coconut,

plus more for rolling
Instructions
Mix the Rice Krispies, nuts, and coconut in a large bowl and set aside.


In the bottom of a double boiler, bring water to a boil over medium high heat. Reduce the heat to maintain a gentle simmer.

Stir together the margarine, sugar, egg, and dates in the top of the double boiler and then place it over the bottom. Cook, stirring occasionally, until the dates begin to break down, about an hour. Remove from heat and stir in the vanilla.


Add the date mixture to the Rice Krispies mixture and stir thoroughly.

Make sure the mixture is cool enough to safely handle, then roll tablespoonfuls into 1-inch balls. Roll each ball in coconut.

Allow to cool completely before storing in an airtight container.