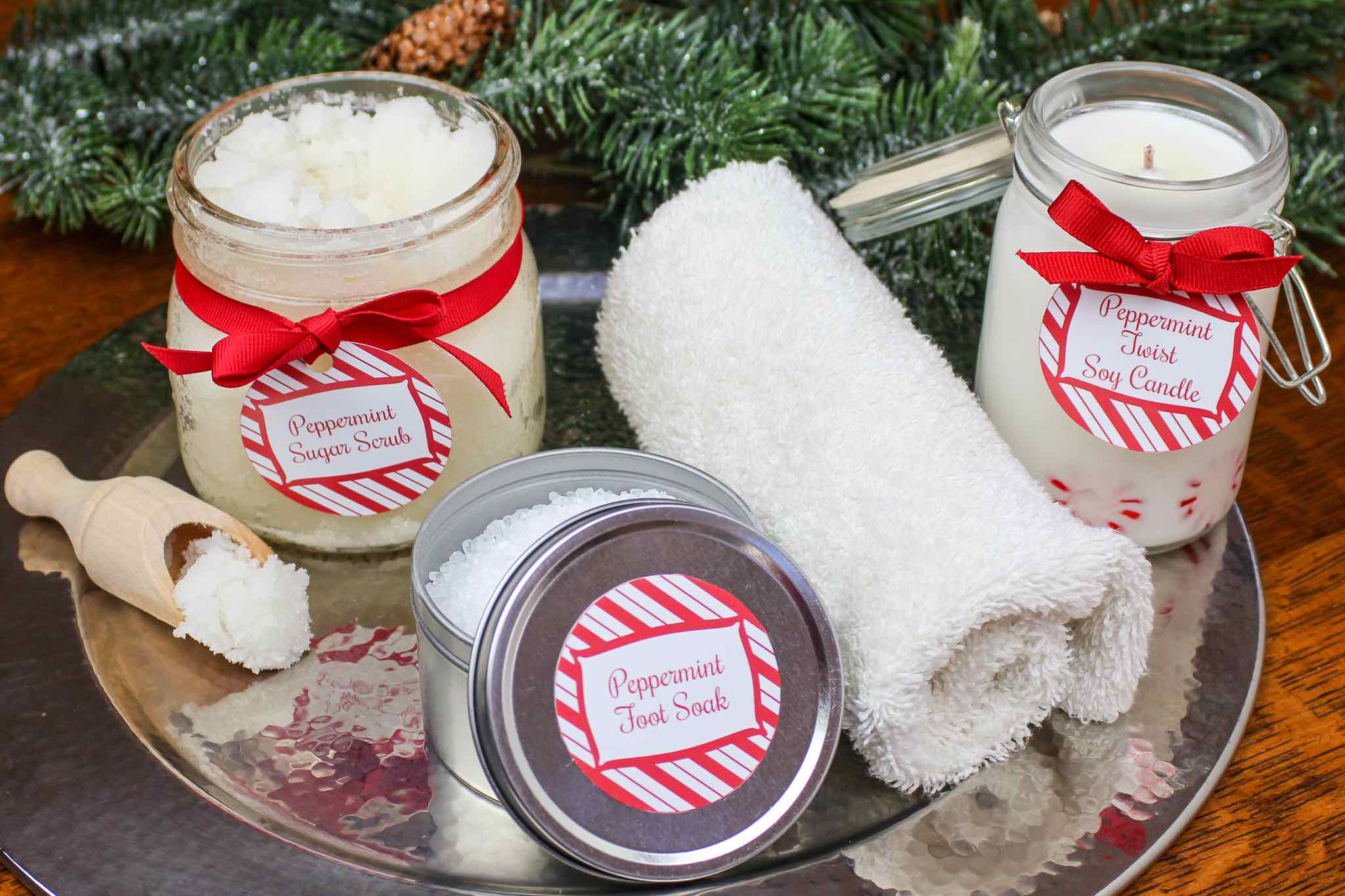 Easy DIY Peppermint Scented Gifts
As the winter holiday season begins and get-togethers start appearing on the calendar, we like to make sure we have a supply of handmade hostess gifts on hand. While we always have jam and other things we've canned over the summer months, it's nice to be able to pull from a selection of candles and bath products as well.
We'll make several items with the same theme, and when we need a gift we mix and match two or more to create a custom set.  The possibilities are endless for fragrance choices, but peppermint is perfect for this time of year, especially with a festive red and white color scheme.  Here are three of our favorite easy DIY peppermint scented gifts to get you started.
This post contains affiliate links, which means we may receive a commission (at no cost to you) if you purchase something we have recommended.
Peppermint Sugar Scrub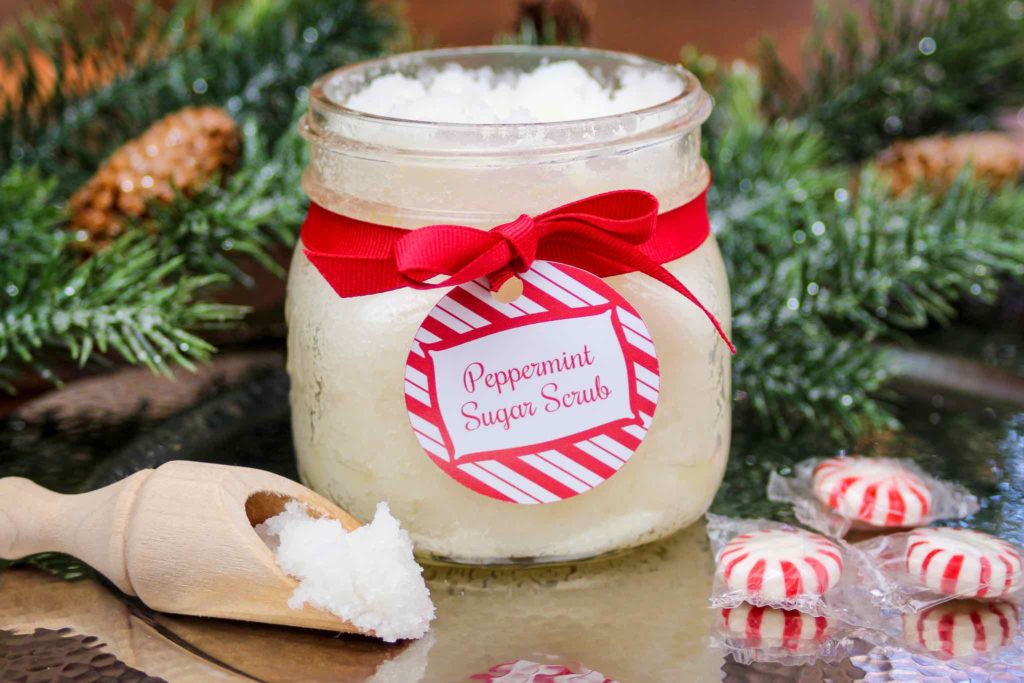 Sugar scrubs are great for exfoliating dry, rough hands and feet. Just gently rub a small amount into skin then rinse with warm water.
This will make enough sugar scrub for a wide-mouth pint jar or you can split it between smaller jars.
What you'll need:
1 1/2 cups granulated sugar
1/2 cup coconut oil
6 drops peppermint essential oil
What to do:
Mix sugar, coconut oil, and peppermint essential oil in a medium bowl.

Spoon mixture into jar(s).
Peppermint Foot Soak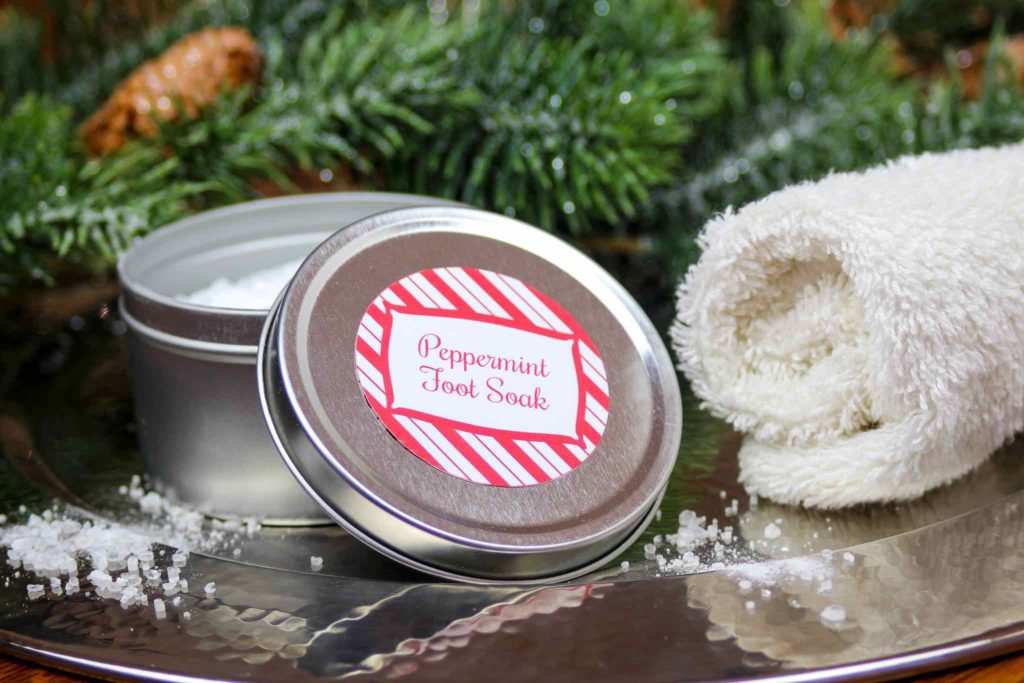 A foot soak is a great way to sooth tired, achy feet. Add 1/2 cup to a basin with enough warm water to cover feet.
I like to split this between four small metal tins, but you can use a larger container if you like.
What you'll need:
1/2 cup baking soda
1 1/2 cups Epsom salt
8 drops peppermint essential oil
What to do:
Mix together baking soda, Epsom salt, and peppermint essential oil in a medium bowl.
Spread on wax paper and let dry for an hour or two.
Transfer to container(s).
Peppermint Twist Soy Candle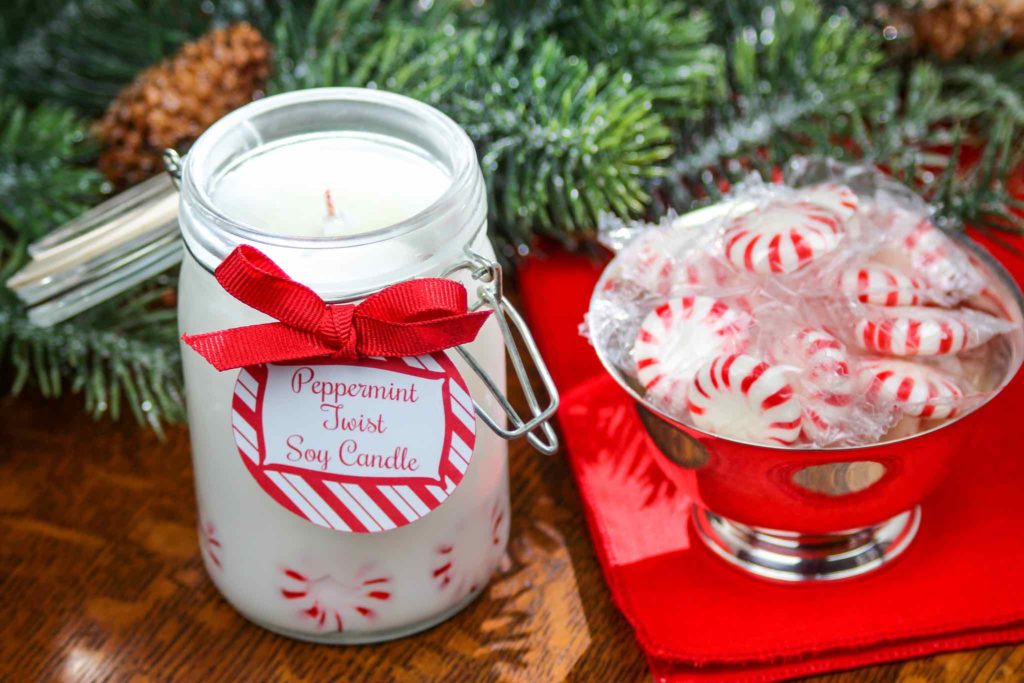 To make this cute soy candle, you will need some basic candle-making supplies and instructions. This post from Living Well Spending Less is a great resource that I used to make my first candle.
In addition to the items they list, you'll need some peppermint candies. I used 6, but how many you need will depend on the size of your jar.
Before you add your wick to the jar, use a small amount of hot glue to stick the thin edge of each candy to the bottom of the jar. Make sure the flat side of the candy is as close to the wall of the jar as possible.
I get our soy wax, wicks, and other candle-making materials from Virginia Candle Supply as their selection and quality far outstrips what our local craft stores have. For this candle, I used their Peppermint Twist fragrance oil.
The Gift Set
Once you have everything made, you can put it all together in a cute peppermint gift set. Start by downloading our labels for each item.  Print them on card stock or glossy brochure paper, then cut out and affix with ribbon or hot glue, or print on sticker paper and cut out.
Then you'll just need packaging to pull together the set.
A gift bag, box, or basket – we always have kraft paper boxes around and they work perfectly for this
Some filler material such as paper shreds or tissue paper
Ribbon or twine
An optional decoration like peppermints or a candy cane
A gift tag – make your own or download ours
*Includes optional second page with use instructions. You can either print as a separate sheet or print on both sides of your paper choosing flip on long edge.